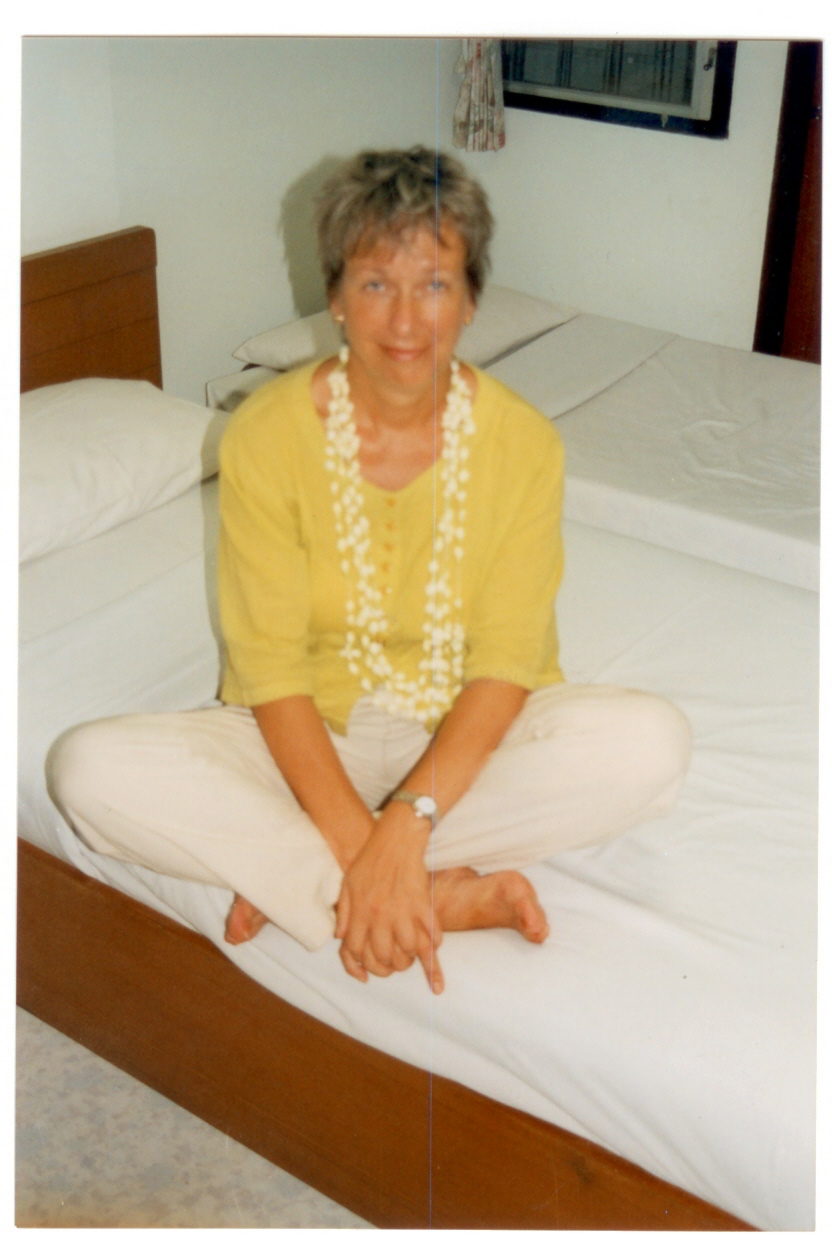 How are you? Not deluged out in any freak flooding I hope!
Impressions of Thailand? I was expecting a third world kind of place, but our guide immediately stated its position as one of the economic leads in Asia. Apparently, their PM, who is a business mogul, has managed to pay off their debt (as well as benefiting his own economic interests!) and Thailand is now poised to be an economic leader, with Bangkok acting as an aviation hub for the East.
Bangkok is a planning nightmare. We went in the rainy season so essence of sewer in heat and humidity up in the 80s. The river is quite nice, but brown. We went further inland to a sort of Bangkok Venice and got driven around at death defying speeds in blinding rain so you couldn't see or breathe, in 'rocket boats' – a total ecological disaster – but I just got the giggles despite, or probably because of, being soaked and all my fine cotton clothing being utterly see through – much local hilarity.
Nice temples and gold Buddhas everywhere.
We spent 3 days on Koi Samet, which is one of the less developed islands and quite beautiful and peaceful so I read and my metabolism slowed down. J2 snorkelled and we saw lots of fish and turtles.
After that we caught the overnight train to Chang Mai which is prettier than Bangkok with a vibrant night life. Lots of white men in their 50s and 60s with young Thai women – apparently prostitution is getting worse not better – loads of second hand book shops and water features as abundant as the temples. People feed the fish there rather than the birds.
After this we drove up into the forest/jungle area to Soppong and took a two day trek out to the hill tribes. The Thais refer to it as jungle which surprised me, but we were right up near the Thai/Burmese border and there are wild elephants, tigers, monkeys and parrots although I didn't see any. I was exhilarated and surprised at how fit I was as the inclines were steep and everyone sweating buckets. The smell from all the plants and the sweetness of the air was just intoxicating. We stayed in a wooden hut on stilts with the Karen tribe and I lay awake listening to this torrential rain and found every moment of the experience quite blissful. I think I have more of the adventurer in me than I imagine.
After Soppong we went back to Chang Mai (where I had a genuine Thai massage – lots of pushing down on pressure points and more painful than sensual, but I felt good afterwards!) and then flew to Bangkok and onwards back home. I loved the food and didn't get a dicky tummy at all. It was my first taste of the Far East and I am now intrigued to visit Laos and Cambodia.
The other families in the group were fine, not necessarily people you would become buddies with, but quite affable. I had a really good time.
The feedback from the Ethiopia job was quite encouraging so I am committed to carry on trying!
A* did not get the grades for Durham so will go to UEA. J1 did less well. He will need to work hard next year, but got B in drama with full marks for his practical performance!
I still have very upsetting moments re FH. Another of his male friends has had an affair and temporarily, at least, separated from his wife, so I had a rather upset and hysterical woman to comfort yesterday which I found personally distressing as she inadvertently let things slip about FH that were very painful. However, I seem to have been able to recover my equilibrium today.