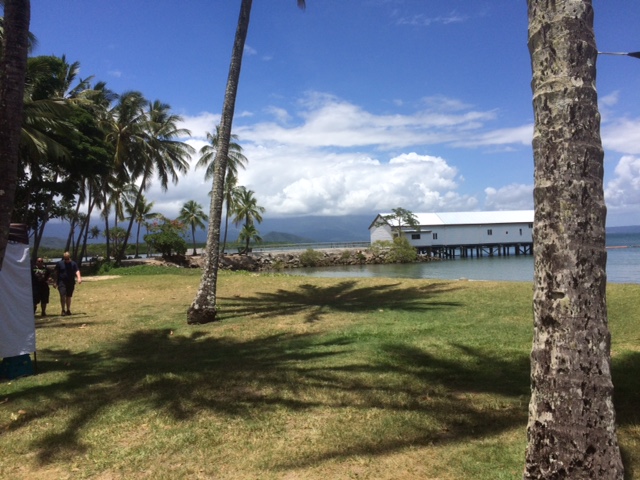 A little piece of my heart will stay forever in Port Douglas.  I hadn't expected to feel that.  What did I like so much about it?  The hour long drive up from Cairns of mostly trees and pristine beaches?  The easy size of it?  You could walk from the resort to the Marina and back along the main High Street to the beach within a couple of hours.  Its chi-chi, clean, middle-class-ness?  It felt classy and affluent and although stuck out miles from anywhere central to trade it wasn't that expensive.
On the first Sunday we went to the craft market at Anzac Park.  It was like Camden Lock, but everything looked better and more vivid than normal life – perfect location near the sea with Banyan trees and populated with artists, masseurs and tarot card readers, all sun tan brown and alternative looking.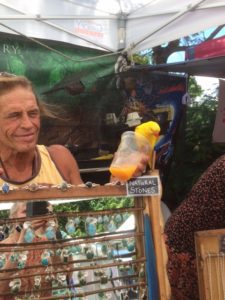 Our two organised trips were to Daintree and the Great Barrier Reef.  Water activities are not really my thing, but I put on a lycra suit and had a reasonable attempt at snorkelling for the first time at 58.  It took the attentions of a sweet, helpful life guard to stop my mask filling with water, but we did it in the end.  I was proud of myself as the last time I was in snorkelling territory in the Red Sea I opted out.
Another day we hired bikes and cycled to the wildlife centre and I saw a cassowary and a koala before we cycled back along 4 mile beach.  It was easy because it was flat and cycling created a pleasant breeze in the heat.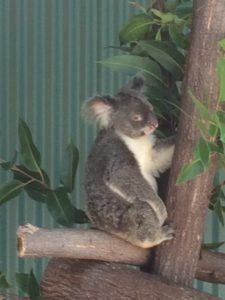 We stayed at the Shantara resort which I didn't realise until we got there was adult only – a Lucy from the Flight Centre unilateral decision which we benefitted from, along with sending us to Port Douglas rather than Cairns.  The apartments were beautifully decorated and you could cook in them although most people didn't.  We did.
The instructions for the microwave saying that it was also an oven were useless when we discovered it was a different, more basic brand of microwave.  The extractor fan did not work, but these were trifles.  The place had maybe 6/28 flats occupied.  We had the pool to ourselves every time we used it.
Would I like to live there?  While I could probably buy a property there, I don't believe I have the retirement funds to pay for every day life.  Anyway, I don't think Australia lets in retirees.
I recommend it travellers.