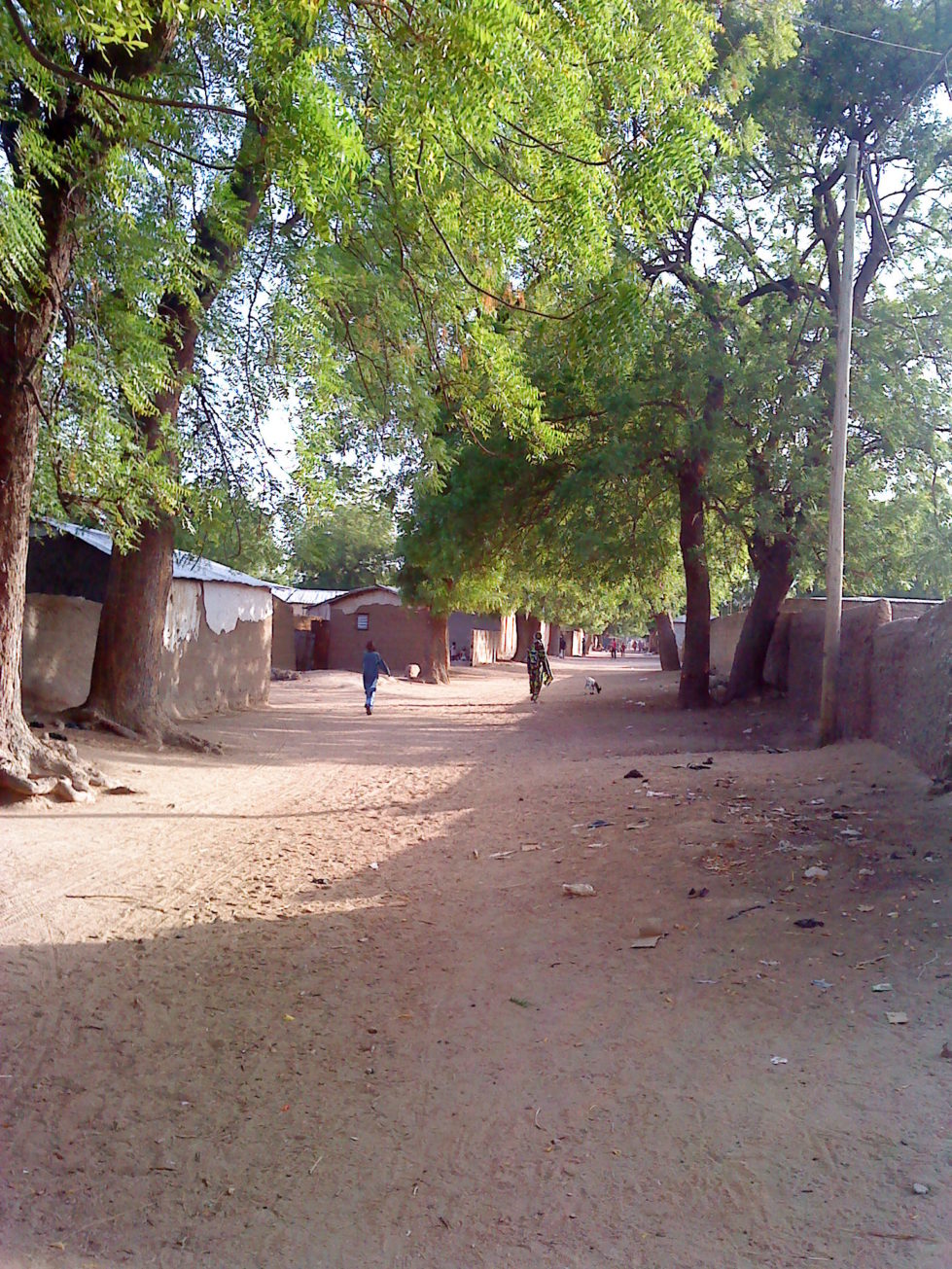 I offered to give a talk to my church group about what I learnt as a VSO volunteer. As I will eventually remove my blog posts and leave just the ebooks on the site, it seemed an ideal opportunity to post a summary and give readers an idea.  Look at the picture galleries to give you a better visual.  My photos don't have a lot of people in because if you took a camera out in this environment you would be surrounded by people immediately who would play up for the camera.  This drew attention to me in a way that made me feel vulnerable so I didn't do it.  I was also very conscious of voyeurism.
Where did my motivation to travel come from?
My mother's boyfriend, who was in the army and told me stories about countries he had visited. My own travel experience till I left home was limited.  After that I became a travel junkie and use all my disposable income on travel.
How did I get in to community development work?
I trained as a History teacher. I was never in to rules, but the holistic development of young people.  On the cusp of my 30s and taking advantage of my fostering training and experience, I moved in to community development and worked setting up a family project for The Children's Society on Marsh Farm.
Why abroad?
With my love of travel I had wanted to work abroad for a long time. When I worked for EC1 New Deal I had a career coach who I used to meet in the café of the Tate Modern who got me dreaming my vision of where I wanted to be in my 'ideal' future.  I wanted to be working abroad in a hot country, meeting interesting people and having stimulating conversations.  I did get it, but it wasn't quite how I imagined it.
Application to VSO
Hugely long process – medical, 2 written applications, day long interview, group tests, individual interview, 6-8 days training on working in developing countries and the cultural adjustments necessary.
Why Cameroon?
It was the first offer. I made my mind up I was going to go with the first thing I was offered as I had no idea how I would make a choice.  The job sounded absolutely amazing on paper working with a local council to look at how they consulted and worked with their local communities to improve democratic decision making.  They chose me because I could speak French, they wanted a woman and I had a lot of relevant local council experience of working in communities.
The practicalities of moving abroad
I had to resign my job. I had to make sure my children were OK.  I had to fill the house with lodgers to pay my bills while I was away.  Everything had to be set up on direct debit.  I had to find someone to come in and do the garden.  I had to put my horse on loan.  A long process of immunisation.  I had every jab going – including rabies.
Arrival in Cameroon
They put the group up in Yaounde the capital to begin with for one week for further in country training then we had to travel to our various areas for another week of area specific training including language. Only 3 of us went to the Far North.  Most of the volunteers in the Far North were French speaking Canadians and bi-lingual.  I had studied French to A-level 30 years previously.  We also began to learn the local dialect, Fulfulde.
The geographic isolation
Difficult to get across how isolated we were. There was only one train a day to Garoua from Yaounde which took about 8 hours.  It would take 4-5 hours just to queue for a ticket.  From Garoua it was a bus to Maroua which took 6 hours.  From Maroua it was another bus that took 1-2 hours but you may have to wait for a bus with spaces for 1-2 hours.  You had to pay people to get tickets for you at Garoua or this would involve another overnight stay.  I got stranded on a broken down train once for over 12 hours before they sent out coaches to pick us up.
The office
This was the main council office which had no running water or toilets. People just went out the back in the sand.  There were plenty of offices and I was promised one, but they remained locked up during my year there.  The doors were opened once and I was shown a room full of boxes which had strategy documents for every sub area that had been drawn up by another charity and were just totally ignored and left to disintegrate.  3 of us, including their equivalent of a Chief Executive worked around one desk on plastic chairs.  Quite often I had my computer on my lap.
The work
I was supposed to be working with their equivalent of local councillors. However, these men (and it was pretty much totally men) could only speak to me after I had been introduced and it was months before they introduced me.  Although the senior executives had asked for me they did everything in their power to make life difficult for me speaking in Fulfulde rather than French which was the official 'work' language, not sending out invitations to meetings so it was only their mates who came, beyond their usual approach to work generally which was not turning up at regular times if at all, making endless arrangements and promises to do things and not delivering.
After months
Of this I did the old community work thing of starting where people were at and this was basic essentials. There were areas where they were still walking miles for water because wells were not fixed so I came across one guy who could fix wells and started going about with him.  The problem was two-fold.  A) I had no budget for fixing wells so I had to be very imaginative with my expenses B) the concept of paying water rates or taxes for local services was alien.  People were grateful to have their well fixed, but they had no concept or inclination that it might be a good idea to all give a small, regular contribution to keeping the well in good running order.
Visits
I went to visit every single village in the commune. This meant getting on the back of a motor bike with the driver and an interpreter and driving up to 2-3 hours each way across sandy scrub.  All the men of the village would turn out and it was immensely moving.  I just listened to their anxieties which were all about water, crops (not getting trampled by elephants or ruined by freak floods in the rainy season), local schooling though very few young people went to school beyond 14 and girls after 8.  I couldn't change anything for them, but they told me when I bumped in to them at a later date that the very fact I went to visit made those in authority sit up and take notice and they did experience some changes/positive interventions during that period.  They needed better roads, but mobile phone technology was helping enormously to reduce isolation.  There was a huge mast in Bogo.
I also went to visit every GIC in the commune. These are small groups of women who collect together and support each other like a sort of mini union to run a business – like making clay pots, calabash, cooking, farming etc.  During the period I was visiting them they were featured on national television.
The corruption
The local leaders would always say it was about money, but it is never just about money. They had public toilets in the centre of Bogo which remained shut the whole year I was there with a cholera epidemic.  I worked out how they could open them and run a little business to keep them in operation.  The 'committee' proved eternally evasive and I never got the keys/permission to open them.  People defecated in the open on the fringes of a market where food was being prepared.
I tried to get another building opened for a place where the young people could meet. I queued for hours to meet the person to give me authority to get the room opened, only to find it was stuffed with brand new school desks well into a new academic year when schools locally had nothing.  I never got the desks out to schools and the room opened.  Any resources for young people was seen as a luxury they did not need.
What did I achieve?
I felt I achieved very little. I was told that just by being there I was modelling to all the women and men I met that women in other parts of the world are treated differently.  To prick at their consciences if you like.
At the time I was told that the impact is mainly with individuals. I met a senior employee of VSO in the last year.  She said to me that you see the changes after 5 or 6 volunteers have been there.  Then you notice the impact.
It was an extraordinary experience where I learnt a lot, even if at times it was not always enjoyable. Every volunteer got seriously sick at least once.
What did I enjoy about it?
The natural environment was very beautiful. I loved the pace of life and living in a simpler way.  I liked being closer to animals.  I know I can live for a year from less than one suitcase.  I know how resourceful and brave I can be.
Why did I go back and do another stint?
I felt I hadn't achieved as much as I wanted to. I felt I had gained more from the experience than I had given back.  I love adventure.
Sri Lanka
I was a bit more choosy the second time around because I could read between the lines on the project briefs so Sri Lanka was about the third placement I was offered. I couldn't resist the opportunity to be sent to such a beautiful country.
In Country Training
There were over 70 volunteers in Cameroon. In Sri Lanka there were about 7 and we were all spread out so I rarely got to meet with the others.  The office was also closing down so I was the last volunteer to go.  I had my in-country training on my own.
The job
The job I ended up doing was not at all what was sent to me on the original documentation. I thought I was helping with winding up and closure.  I ended up drafting a development plan for a council involving things like water, fishing, coconut and cashew production – things I had no knowledge of whatsoever, but what I did understand was how documentation processes work in councils.  I had written plans for councils in England.  Again, on paper it was an incredibly stimulating job.
The conditions
Were far easier than in Cameroon. I worked on the East, Tamil (mainly Hindu) side of the island rather than the ruling Sinahala (Buddhist) side.  They had been devastated by a long, violent civil war and the Tsunami, but the environment was an undeveloped paradise.
I had a house in a town with running water and there was a lot more choice of food to eat. However, the allowance did not go as far as in Cameroon and I was relatively much poorer than before.  None of the other volunteers lived off their allowance.
What did I do
I went to work in the council every day 8am-4pm and went out and interviewed over 100 people working within the jurisdiction of the council. I wrote down in a document what the current situation was, what they all saw as the problems and what they thought and I thought could be potential solutions.  Oxfam promised to fund a draft document if I produced it to a deadline which I did, but a regional government official decided they wanted a 600 page document.  He actually said to me, 'you start with the number of pages you want and work backwards'.  He did not like my document and said it was not strategic enough.  This was hurtful and may have been accurate, but the benefit to them and the way they could use it was as a starting point to engage in debate about a way forward.  Although English was their language of work, they had still needed me to write it for them.  In reality, would people read a 600 page document when only a few could probably read a 100 page document?  Documents are only useful if they are used to make policy and enable good things to happen.
The corruption
It felt less in Sri Lanka. There was a lot of wastage from money poured in to the country after the Tsunami where perhaps there had been insufficient consultation or it was not bedded in so could not be sustained after aid organisations left.  There were many abandoned buildings.  Estates of houses built in the wrong place so people just refused to live there and started dismantling the buildings.  They built really needed things like rice mills, but in the wrong place so they fell in to disuse.
People had jobs for life and were not managed so were hopelessly unproductive and unfulfilled.
The rural areas suffered the most with poor access routes, dreadful school buildings, no teachers as they had no incentives to be out in rural areas.
Everyone just wanted a job in local government in the urban areas.
Men still bossed women about. Huge numbers of women work in domestic servitude in Arab countries and abandon their children for years.  This causes enormous problems in families.
What was the biggest issue for me?
Loneliness. Large family units have no necessity for friends the way we do in European culture.
Lack of education really gives people nothing to talk about. In Cameroon they warned us about dialogue in the 'present obvious'.  'I am eating rice.  I like rice.'  It really was that bad.  I thought I would have lots of interesting conversations about growing things or looking after animals, but it was minimal.
Other volunteers
It is not an eclectic mix. By and large they are very very well educated and come from privilege.  They are mainly under 30 looking for work experience to get that job in International Development.  I lost count of the number of times I heard a member of this group say, 'but I have a doctorate in this!  Why are they not listening to me?' or post retirement from extremely well paid jobs.  This group bought houses and cars, flew everywhere and often came out with little grant pots and gave money away which was hugely difficult for people moving in to a house after them.  I was unusual being in my early 50s and relatively poor.
In defence of volunteers most of them were put in placements where they were set up to fail and treated very badly by their host organisation and VSO staff in country. There was no sense of duty of care to the people they brought out and the vulnerable floundered.
There was also a fair bit of going native where volunteers just disappeared off the planet and never came to meetings, and marriages, especially in Cameroon – older men with very young women and young girls with extremely good looking men.
What did I love?
Being close to nature. It is a huge privilege to be in a culture close up in this way.  It changed me forever.
Both VSO Sri Lanka and Cameroon are now closed.   Sri Lanka is closed as it is now no longer seen as a developing country and Cameroon because it is now too unsafe for volunteers.