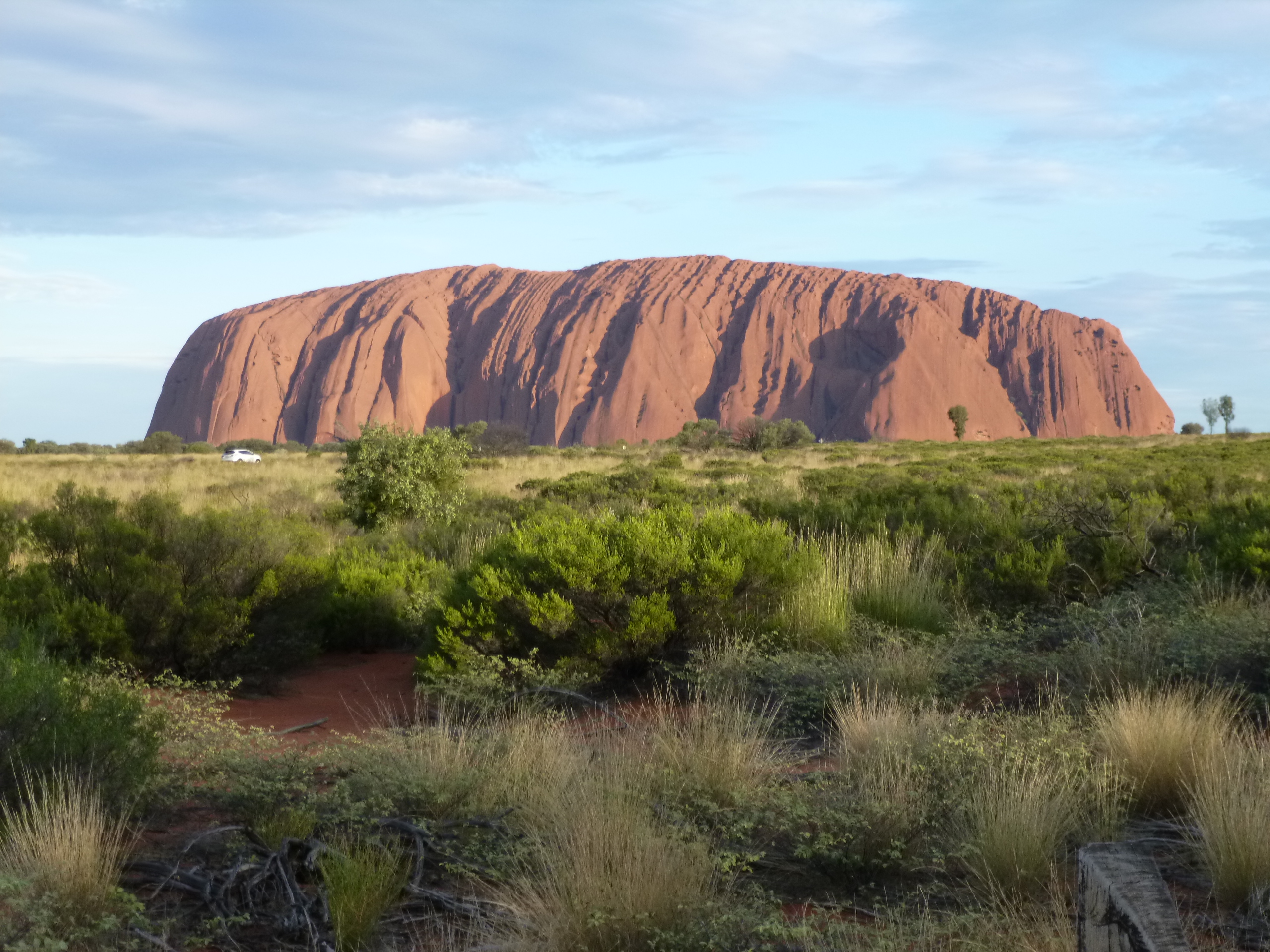 There was a lot of driving.  It was far more Boot Camp than any previous tour I have done, even though they were classified as Basic too.  I don't know if this was as much down to the guide than any deliberation on the organisation's part.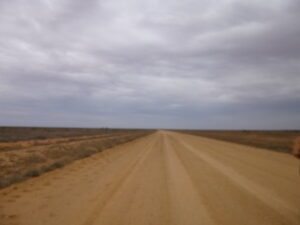 The guide drives, cooks and does the guiding bit.  On this tour the guiding took a back seat.  This meant we missed out on our leader orchestrating any introductions.  Usually you have to introduce yourself, get a talk on dos and don'ts  and how they expect you to behave and then all go out for dinner on the night before you start to travel.  We got an in colour urine chart pinned to the front of the bus telling us how much water we should be drinking.  It was hot and I can see it was important, but after day 1 it was an overkill.
Our guide cooked all the meals with some help from us, but they were not social events.  He never ate with us apart from pizza night and it was very much a scoff it down and get cleared up mentality.  One young woman appeared to eat all her meals standing up.  We all went to bed early as we were up at 4-5am to avoid the heat of the sun.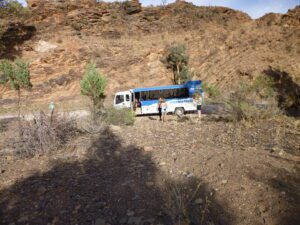 I have been on 7-8 group tours now.  Without exception the clientele has always fallen into the age ranges 25-35, 50-65, predominantly university educated.  Guides need to be able to deal with both ends of the spectrum.  Our guide appeared to struggle with this and it reached a crisis point for me when I felt he tried to dissuade his perception of the 'more vulnerable' in the group from taking the 6km walk around the rim of Kings Canyon.
As someone who has done a lot of guided walks the ethos has always been that you walk to the pace of the slowest.  None of us were that slow.  When one of the young women said she thought she wouldn't be able to go I was apoplectic.  In the end I had a quiet word with 3-4 of the slowest and said that if we all went he would have to go slower, but it stressed me and made me anxious to have to do this.  One young woman did opt out, but it was perfectly manageable to the rest of us.
I found the outback fascinating and it has inspired in me a desire to find out more about the early pioneers.  The vast spaces, the colours, the heat, the simplicity of living.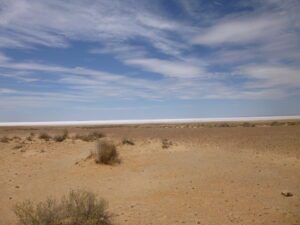 I was also fascinated with the history of the aborigines.
Uluru was a damp squib.  Again it was more about the management of it.  We were dropped in the dark about 4am in the middle of nowhere (i.e. not a car park with toilets) to do the walk around the base of the rock.  I needed the loo, but the toilets were at the end of the walk (no forewarning.  Do you wee at Uluru?  No.)  At the end of the walk we had an 'illustrated' tour with an aborigine guide, but two Intrepid groups were joined together so there were about 30 of us around one guy, in the rain, who did not have a loud voice.  Finally, we visited the cultural centre that had guide sheets etc …..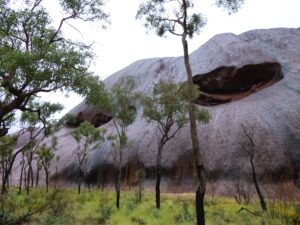 I liked the holes in the rock and the waterfalls down it.  The bits you could and couldn't photograph were confusing.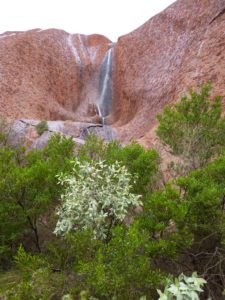 I like Kings Canyon much more and would have so missed out if I had allowed myself to be intimidated by the guide's bullying attitude.
Another way that this manifested itself was that he didn't always tell you when you needed to be back on the bus so you would stay close by for fear of him driving off without you.  Why didn't I ask him?  Because he seemed so stressed and tense a lot of the time.  He lacked joy and passion.  Intrepid guides until this point had both in abundance.
I did try to like him.  He saw himself as Crocodile Dundee which dates him doesn't it?  He had the looks but charm only for the younger nubiles on the tour.
I got tired of all the stories about how stupid tourists were.  He seemed to forget he owed his living to them.
As a manager, I would say he had been doing the job too long (over 10 years) or too intensely without breaks.  He needs retraining in his people facing skills to bring them into the 21st century.  He is not running a Boot Camp.  It's a holiday.  His driving and cooking were excellent, but he could learn a lot from the younger, trainee guides he denigrated about listening more and sharing knowledge, which he did, sporadically, on local history, plant and animal life.
No regrets about going.  We booked through Flight Centre and did not get an email itinerary, packing list or even told the pick up point.  I had to ring and then Intrepid had no code to identify us.  We had no torch or sleeping bag with us, but we managed.  I slept in a swag for the first time.
Because Intrepid is an Australian company I expected it to be brilliantly managed.  It wasn't.  They contract out and need to rethink one person doing everything.  As our guy proved, something has to drop by the wayside.
Finally, Australian participants told us you don't tip in Australia.  Great, because it took a dilemma from us, but maybe if tipping had been standard, he might have tried harder to make relationships.
P.S.  I got a very comprehensive letter back regarding my feedback and a discount voucher for a future trip.