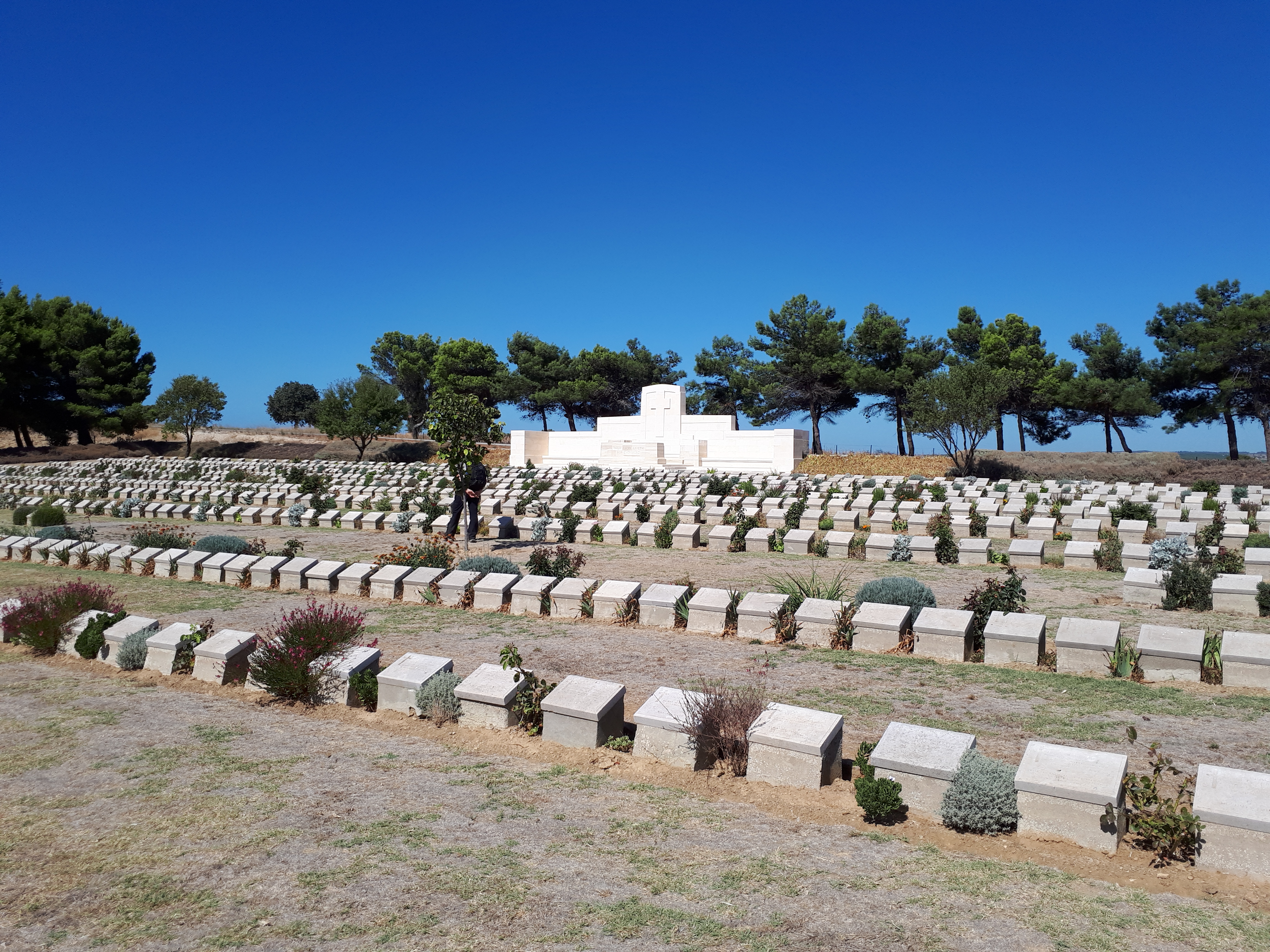 I was quite taken with Istanbul's beautiful location, and the buildings.  Hagia Sofia had the decorators in, but the scaffolding tower emphasised the scale of the building in a way.  I didn't get to do the old palace but Taksim Square was fun, with a rather good craft market and a row of six kebab shops next to Burger King.
Generally the Gallipoli tour group were very knowledgeable, and all got along quite well.  The tour had originated with Peter Hart and the army, who like to send small parties to such places after more gruelling assignments, so it was inevitably going to be quite energetic.  I had read up quite a bit about the military campaign a century ago, and the arid and inhospitable peninsula, and was prepared for that, at least mentally.  The drive down takes about four hours – the worst bit was just getting out of Istanbul's traffic jams.  We were staying at a seaside ferry port called Eceabat, opposite the city of Cannakkale.  The area is becoming a tourist resort and holiday villas are cropping up here and there, but it is still quite wild and rugged.  The places we visited were generally "unspoilt" with lots of wreckage left behind, including ammunition and human remains on occasion.  There was a lot of clambering up cliffs and gullies and it was all quite tiring.  The eating and drinking at the end of each day was accordingly subdued.  Then there were the cemeteries, immaculately maintained by the War Graves Commission, for the British and Empire casualties.  The French cemetery was also impressive, in a French sort of way, and the Turks got in on the act a bit later in the day, with their huge memorials dating back to the 1960s.  Some of the group had taken names from local war memorials so we heard about their stories when we found the names on memorials.
We met a very well-informed Australian journalist, Bill Sellars, who has been living down there for 30 years and his wife, a Turkish lady who was brought up in Belgium, who works for Al Jazeera, so she was really interesting. I didn't get that much opportunity to talk to her as much as I would have liked, but she explained why the internet in Turkey was so bad, on account of surveillance.  Even Wikipedia is a blocked site.  On reflection, Istanbul's atmosphere was more conservative, not just because of the large number of Arabs in the city.  On the evening we spent in Canakkale the bar we stopped in felt as if it could be anywhere on the Mediterranean, but without the usual bad taste one gets accustomed to in Spain.
For the free day we took the bus to the Asiatic coast and I squeezed in a trip to Troy, which was hard to make sense of, as it has been a tourist attraction from the time of Augustus, so many layers of remains to try to understand.  The tour itself ended on the following Monday, but five of us had booked a couple of days on Imbros, where the British HQ had been.  In particular Bernie, a particularly youthful 50 year old Australian, was researching his book on aviation, so what I thought would be a quiet stay turned out to involve hiking over a remote peninsular looking for more remains.  We even found a wild tortoise on our wanderings.  At the end of it all Bernie went off to other islands and we made our way back to Istanbul.  I got a cheaper flight for Thursday, leaving me with another night there and time to do the Blue Mosque, the magnificent Basilica Cistern and the sultans' tombs.