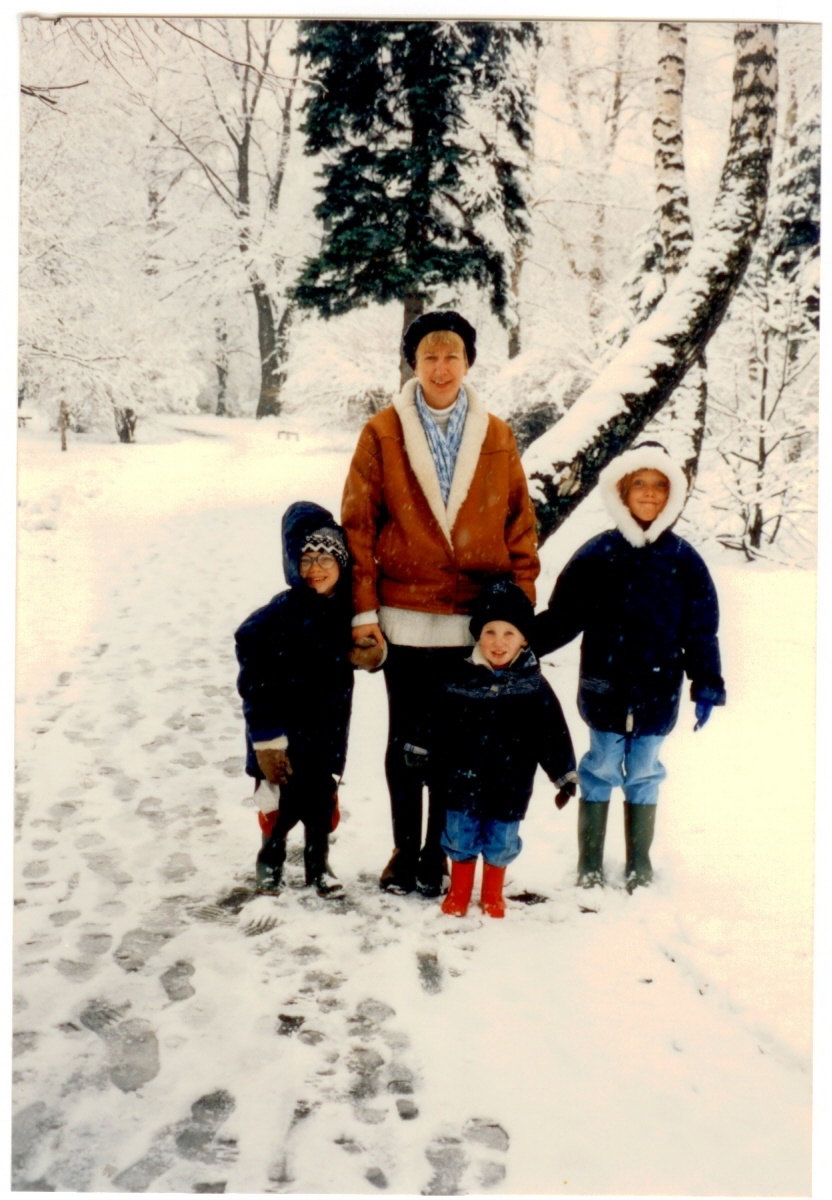 It's Mother's Day today in the UK. What do I think being a mother is all about?
First of all I would want to say that I am beyond glad I had children. I can't imagine how I would feel if I had got to 56 and not had children. It is amazing to see them grow up and become their own people. There are still moments where there is an overwhelming bond and connection that I don't feel with or about anyone else.
Various little bits and pieces I picked up en route guided me in my own parenting. There is the famous film, 'Guess who's coming to dinner?' 1967 where the parents say something along the lines of ….'but you owe it to us to'…… and the daughter says, 'no, I owe it to my children to …..' We don't bring our children in to the world to pay us back. We bring our children in to the world to pass on the best of how we parented.
The best of how my Mother parented was to encourage us all to be the best that we could be and to search beyond our immediate world for opportunities. I think of her now when my daughter is in Australia and one son travels all over the world. The small amount of money she left behind was given to my children during their university education as she would have approved. She always said that young people need money, not old people.
The other big inspiration were and are the poems below
Children Learn What They Live
By Dorothy Law Nolte
If children live with criticism,                They learn to condemn.          
If children live with hostility,                They learn to fight.          
If children live with ridicule,                They learn to be shy.          
If children live with shame,                They learn to feel guilty.          
If children live with encouragement,                They learn confidence.          
If children live with tolerance,                They learn to be patient.          
If children live with praise,                They learn to appreciate.          
If children live with acceptance,                They learn to love.          
If children live with approval,                They learn to like themselves.          
If children live with honesty,                They learn truthfulness.          
If children live with security,                They learn to have faith in themselves and others.          
If children live with friendliness,                They learn the world is a nice place in which to live.          
Copyright © 1972/1975 by Dorothy Law Nolte           This is the author-approved short version.
On Children
by Kahlil Gibran
Your children are not your children.
They are the sons and daughters of Life's longing for itself.
They come through you but not from you,
And though they are with you, yet they belong not to you.
You may give them your love but not your thoughts.
For they have their own thoughts.
You may house their bodies but not their souls,
For their souls dwell in the house of tomorrow, which you cannot visit, not even in your dreams.
You may strive to be like them, but seek not to make them like you.
For life goes not backward nor tarries with yesterday.
You are the bows from which your children as living arrows are sent forth.
The archer sees the mark upon the path of the infinite, and He bends you with His might that His arrows may go swift and far.
Let your bending in the archer's hand be for gladness;
For even as He loves the arrow that flies, so He loves also the bow that is stable.
Often we talk about being 'good enough'. I hope I have been a 'good enough' parent. My children have variously described me as, 'not the sort of mother who bakes cakes', but 'very loving'.
Do you remember after having the first child and then thinking you could never possibly love another child as much? And then you do because love is one of those things that effortlessly expands. Let us thank all of our Gods for that.