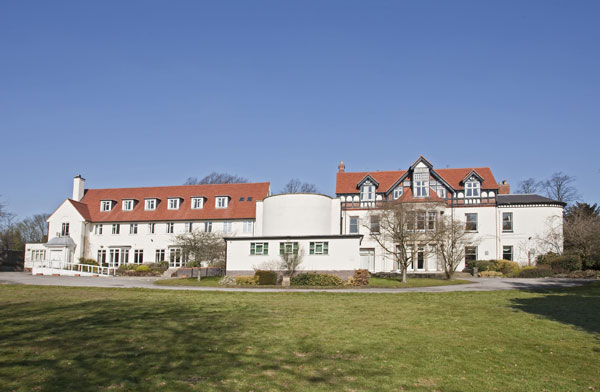 The most exciting and special bit of news this month is that on Wednesday June 3rd about 11am, son J1 finished his 30 mile run in 7 hours with xlbs load after a month of intensive physical and mental deprivation (including no family contact)  which he says he never EVER wants to go through again (11 more dropped out during this phase) and got his beret to become an officer.  Yippee!  I am putting the picture in the toilet.  The next day he went to sick bay and discovered he had broken a bone in his foot that was becoming infected, but after not being able to complete because of blood poisoning back in November 2007, he is just ELATED!  He is now going off for a few months for some gentler training in the states including learning to sail a yacht.
Next, an update on my VSO preparation!  I had such an intensive three days at my VSO training in Harborne Hall, Birmingham.  There were about forty people, ten men, about thirty women (far more women do this than men apparently) divided into two age groups – 27-33 and 50-66 so I was about the youngest amongst the older contingent.  The first day was very much about putting the work in its political and historical context so sessions on colonialism, world debt and globalisation and then the next day was much more about culture and adapting to new cultures, dealing with isolation etc and believe me, however liberal you think you are, when you hear some things you realise you aren't.  For example, I thought that Africa was a nation of church goers where people had family values.  Apparently whether or not they are married it is common practice to have multiple partners by both sexes which is why HIV and Aids is so prevalent.  There are also issues about how women are treated and what we will be expected to wear which I will probably find quite difficult.  Africans dress very formally for work.  They also communicate orally rather than in writing.  Imagine trying to avoid disasters at work in a language you have only just learnt and don't understand the nuances!
There were a lot of people from the medical profession, not just doctors but NHS managers, teachers and only a few people with skills like mine or things like marketing and fund raising.  An Irish guy from Leeds who had the same skill set as me had just heard he had got a placement in China.
I didn't come away thinking it's not for me and if anything, the level of professionalism in their approach to training volunteers is reassuring and inspiring in equal measure.  It costs £27,000 on average to send a volunteer out for 2 years, but they see you as having a skill level of a consultant, so therefore, in real terms it is good value for money.  As well as doing the job of your placement, you are expected to be an advocate for development work in general, to encourage better awareness in the approach to HIV and Aids and to fund raise.  Every volunteer is asked to raise £900 which isn't for you per se, but the organisation as a whole.  You still get to go even if you don't reach that target, but I am going to try as I think it's a good cause.
I plan to ask the pub to take a collection box for me as soon as I know where I am going, and to do a swishing party for my girlfriends, a barbeque for couples and to set up a just giving page for my relatives.  For example I could ask people to sponsor me 50p for every month I am out there which would be £12 which isn't too ridiculous an amount to ask for.  I could promise to send them a monthly update on what I was doing if they were interested.
I have been for my medical and to get my first set of inoculations.  Basically most of the stuff I'd had for travelling had run out so I had 3 jabs in my arm – Hep A, Hep B, tetanus, typhoid & diphtheria.  Then the doctor spent ages going through all my medical records trying to find out what blood group I am (B rhesus positive) as only people in the army get to have blood tests and apart from your pregnancy records they never record it so that no mistakes are made in an emergency and hospitals always test before an op or blood transfusion.  In the end we found it in my pregnancy file.  Once I know which country I am going to I have to go back for more obscure ones such as yellow fever or an HIV test if you go to India, China or Papua New Guinea.
Next – job update.  I have had two more job interviews (no joy) and they have offered me a three month extension for 2.5 days a week here at EC1 which I shall be glad to have until anything else materialises.  Lodger Lesley from Glasgow has returned to Glasgow and we now have lodger James from Ghana.  I can just about manage on half time with lodgers and it will be nice to have a few summer months to focus on the house.
House improvements – still paint stripping, but it's all the architraves around the doors (nine).  We currently have four doors sent away to be stripped.  Work persons came in and re-insulated the loft to government specified levels and FP is making 'ginger' steps with the under stairs loo.
Socialising – not much as we have no money, but I went with daughter A* to an underground restaurant (not literally underground, but someone running it from their own home) which was great fun and FP, son J2 and I are going to my brother's place near Bordeaux early July for a week to join him and his wife in their 60th birthday celebrations.  They have quite a few of their ex uni mates also living nearby so I think we are going to a different celebratory event every day – a bit of a stretch on the party outfits with the same people all the time!