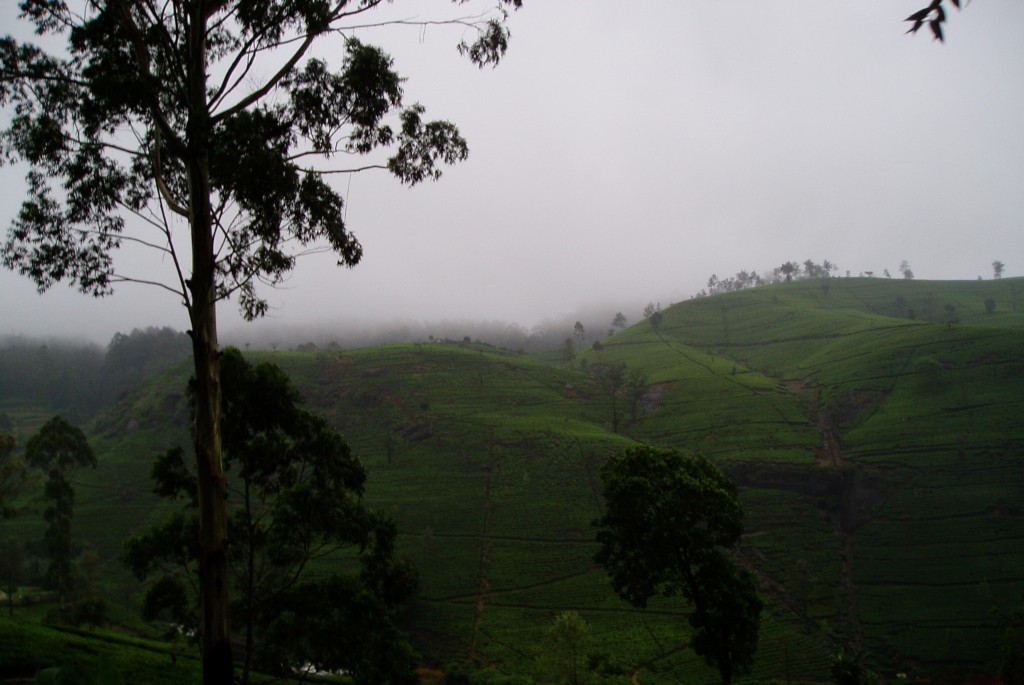 The journey to Nuwara Eliya directly inland was really interesting as I saw a swathe of Batticaloa I had not seen before – the very poor bit – real skinny people and derelict houses from the war. This is what the secretariat should be addressing. Loads of birds though, particularly peacocks. I have never seen so many peacocks in the wild before and I saw a kingfisher so I made a wish.
I nearly missed the bus this morning as I woke at 5.20am, the bus leaves at 6am and I live an hour's walk away. Luckily I was out the house in 10 minutes, started walking and got a trishaw, so just made it.
After about 20kms we started climbing and in to the Sinhalese/ Buddhist bit and it got richer – very beautiful. What amazed me about the tea plantations is how extensive they are and secondly, that they are on very steep hills. The women picking ( and I saw one man) were so fast. They must get repetitive strain injury. They were not in the picture postcard coloured saris with basket – very work day outfits and high strength woven plastic bags.
I got to my waterfall outside Badulla and then to Ella which is full of tourists, Brits, French and Japanese. It's easy to have a beer. It is such a novelty. We do look white and strange and I hate to say this, but fat. It made me aware of how big we are besides Sri Lankans.   Actually I'll classify that – fat all over whereas Sri Lankans get large bellies presumably from the amount of rice they eat. Levels of diabetes are higher than the states here.
I am looking forward to dinner and sleep. Tomorrow I am getting the train to Nurawa Eliya. Apparently train journeys in the hill country are awesome
Day 2
I get 'hit on' a lot especially when I am travelling alone. On the train from Ella to Nurawa Eliya I got cornered by this guy who was a chef for the British Army in Iraq. He was also an ayervedic practitioner which is herbal medicine and BIG here. I've been to some ayervedic hospitals and basically in the pharmacy are lots of recycled bottles with turgid sludgy gunge in. Anyway he was busy scrutinising all my skin discolorations and telling me what he could get rid of, and touching me all the time, in a train full of tourists getting very amused. In the end I told him that if he didn't stop touching me I would have to move so then he sulked and fell asleep.
The usual category is young, very good looking hawkers, who turn up at the guest house the next morning just to check I REALLY didn't want to buy that Buddha statue. I bought one from one especially good looking young man, but resisted the dating advances. How do old, uglier men date beautiful young women without feeling guilt and slightly tacky, because they do, far more frequently than women?
Nuwara Eliya is wet and cold, full of beer and pawn shops and looks bleak and ugly in the rain. I got soaked and my clothes have not dried. I went and had dinner in the famous old hotel called St Andrews which was probably the highlight and watched Gladiator in the bar with a 37 year old barman and got the whole life story with dating advances. Basically he did A-levels and then didn't get enough points for uni which is much tougher here. So he went off and worked in hotels in the Maldives. When he got back he bought a little shop but gave too much credit and was out smarted by a new supermarket. Then he is one of 5 with 3 sisters. Dad works, but can only afford to feed them all so he then works to get the dowry for 2 sisters and the education fees for young sister. His chance of an arranged marriage comes and then (Buddhist shit) the compulsory horoscope wasn't just so, so the parents rejected him. Just how tough is that? He looked about 29 and was so smiley.
I went to bed in a long dress and a giant sweater under blankets and was still hugging myself to stay warm.
நுவர எலிய, இலங்கை, Nuwara Eliya, Srilanka, Sri Lanka, Landscape, Hill Station, மலை வாசஸ்தலம்
Day 1
Forestry
The forest is an important natural resource to protect nature and living things. By increasing tree cover and the productivity of the forest, promoting conservation to support water shed, coastal zone protection and eco-tourism, the needs of present and future generations for forest products and services can be met.
Unplanned development, conflict and natural disaster has led to Batticaloa having the poorest forest cover of the island, only 8% where there should be a minimum of 15%. The department, funded by central government with help from USAid, has a target to plant 83,000 indigenous and exotic trees. Indigenous trees include
Teak (Tectona Grindis)
Margosa (Azadirachta Indica)
Kaya (Suietenia Kaya)
Satin (Chloroxyon Suietenia)
Palu (Mani/ Karahexandra)
There has been extensive coastal plantation of Casuarina (Casuarina Equisetitolia) following the effect of the tsunami. Batticaloa Central grows 36,000 trees annually in its nursery.
Issues, Challenges and Opportunities
The department works with the community to plant trees. Once communities are identified they are given £15,000Rs per hectare for the first year, £10,000Rs for maintenance for the second year and £7,500Rs for the third year. They are allowed to keep the land for 30 years. They can keep 80% of any value to be gained from the trees. The following villages are part of this project currently – Kiran, Karadiyanaru, Palacholai Marapalam, Chenkalady.
Development Plan Focus
There are three rangers in the team. The ranger based at Valaichenai has no office base.
Other priorities identified by the Planning Department
Establish plant nursery
Establish solid waste management system
Reforestation & avenue planting
Protection of wet land & Batticaloa lagoon
Batticaloa District Development Plan DRAFT 2013