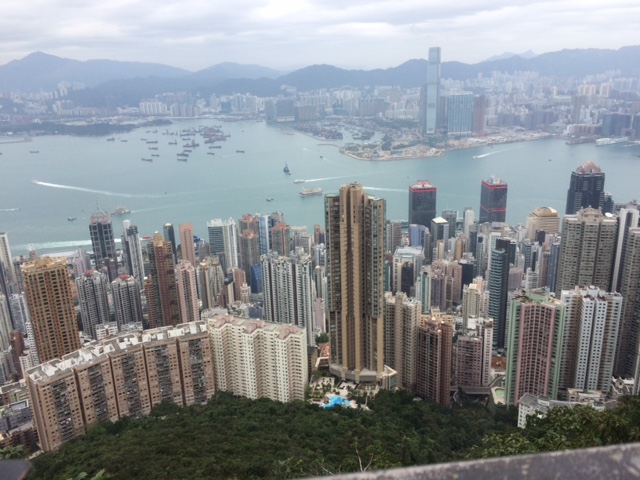 When we arrived in Hong Kong it was grey. You could also taste the dirt in the air in your mouth and in your throat.  There is a lot of grey concrete and the concrete is blackened by the mildew of summer humidity.
Things did improve from the first impression.  The hotel Hong Kong Regal was spangly – a kitsch melting pot of gold padded fabric, mirror tiles and wall carpet.  Red poinsettas in gold paper wrapped flower pots were everywhere.  The hotel served lovely breakfasts with Kenny G on constant loop, talented saxophonist that he is.  They upgraded us to an executive room without the perks because a non-smoking room was not available when we arrived before 9am.  They did not have to do that.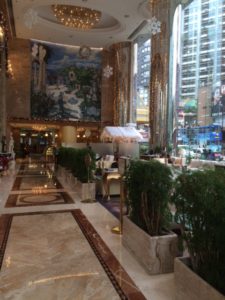 The first night J1 took us to the Ritz Carlton which is the world's highest hotel.  We had a drink in the Ozone Bar up on floor 118.  The drinks were uber expensive and the bar was tacky.  The saving grace was a hospitality student from Vancouver who came over to give us the chat and kept us supplied with popcorn.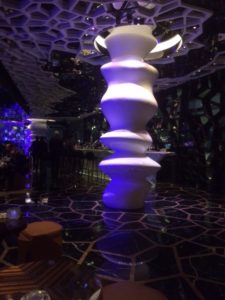 Afterwards we went and had steak in The Lounge – steak with unlimited sides which was delicious.  The best sides were spinach in cream, macaroni cheese and rosemary and garlic chips.  The ambience was comparable, if not nicer than dinner at the Shard and the portions were bigger.  At the end of the evening, some enterprising member of staff drew our portraits on a plate.  They weren't busy that night, but it was still a lovely touch.
Day 2 we walked up Victoria Peak.  It's sub-tropical forest woven through with concrete paths.  People go up the cable car, walk round the top on the flat and go down again.  The cable car tourist area  is just an extension of every other mall in the place, rammed with designer shops and lots of expensive jewellery.  The public toilets there were the dirtiest I used in Hong Kong.
On day 3 we went to the market in Kowloon and back on the ferry.  I tried Dim Sum.  I am afraid to say I still haven't mastered chopsticks and I am not a huge fan of what I was trying to pick up with them.
Would I go back to Hong Kong if my son wasn't living there?  No.  Lots of people describe it as 'huge fun', but if you are not rich and go to bed way before midnight it's difficult to benefit from that.
My son tells me that because many people who work there are fantastically rich, there is a darker underbelly of heavy drug abuse and prostitution, but interestingly the city has little crime.
I would say 90% of the population wear trainers and the dress code is smart sporty whatever your age.