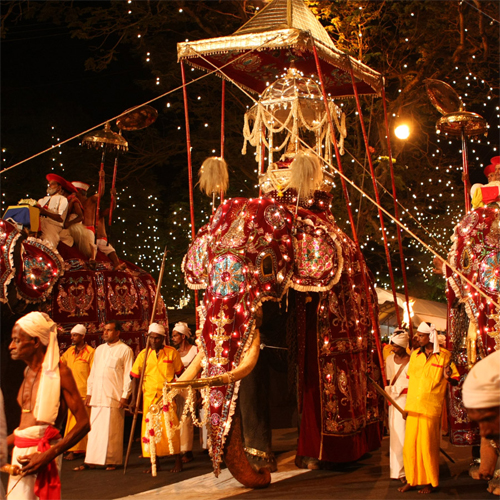 Esala Perahera is supposed to be the big thing and rooms are gold dust so let's hope it was worth the 5 hour bus journey. I haven't seen elephants in fancy dress before.
I had another 4am start and I am now in Kandy taking advantage of Welwyn A not using her booked hotel room for the whole week for research on her book as she is currently on safari and then visiting Anuradhapura with J1 and his mate. They think I am her mother which is OK as I could easily be her Mum.
Welwyn A is a 23 year old who came to volunteer at S's centre for a week on her way back from teaching English in Laos as she is writing a book with a Sri Lankan heroine and there is some link thread about elephants. I am in Kandy because she booked a room for a week expecting this friend from India to arrive who hasn't so she got to be with J1 and R instead and I got a freeby night in a fairly basic guest house even by my standards.
Elephant fancy dress is velvet curtains with sparkle. On their face and ears they have lights, not fairy lights as one might expect, but because elephants are big, light bulbs. Thank God, not flashing ones which could seriously make them demented.
As they clomp along they 'weave' from side to side and do some fancy footwork in rhythm with the Kandyan throbbing drumming.   If I ever see an elephant weave in future I'll appreciate it isn't from early signs of dementia (horses do it when they get mentally sick), but that in a previous life they were In the Kandy Perahera, probably more than once as there seemed to be hundreds.
The crowds begin to stake out their bit of pavement in the early afternoon. There are more police here than soldiers killed on the A9 stretch of road to Jaffna in 30 years of civil war. The crowd control is awesome. Everybody sits and if you stand up and are thereby blocking someone else's view, they tell you to sit down. They don't take any crap from westerners coming along at the 11th hour and trying to push in. They get sent to the back or off to find the mega expensive seats on verandas or shop doorways with vantage points.
Anyway, I got a good enough view with only a 3 hour wait. It starts with men cracking whips, then it was spinning flaming hoops of fire. It is all men and boys. Every male in Kandy district let alone Kandy town must be in the Perahera. Apart from the whips and fire which is obviously the 2 elite groups, you get a choice – drumming, pipes, or dancing, which is roughly the equivalent to the show stopping number the New Zealand rugby team perform before the match. The younger ones do a bit more leaping before they get weighed down by all the rice. Exotic outfits with dangly ear-rings are compulsory. Imagine a few thousand Jack Sparrows and you get the picture.
The ear rings caused a bit of grief. This was not a West End show with everyone beautifully choreographed, but amateur dramatics with the ones who were really good and others that struggled with the moves and the ear rings that kept dropping off.
It went on for about 3 hours which is why everyone stays sat on the pavement. One weird thing is that people watch in total silence. They don't cheer, applaud, call out words of encouragement to participating mates and family members. When I whooped at some impressive fire tossing routine, they all turned round to stare at me.
I crept away about 5 minutes from the end. Apart from the whips and fire it was pretty much variations on the dance routine interspersed with elephants. It took me a while to cotton on that 4 main temples take part and this is reflected in the colour light bulbs on the elephants – white, red, yellow and blue. Otherwise I was beginning to wonder if they did more than one lap.
The great thing was that it was authentically cultural and something unique they have every right to be proud of. There is nothing like this in Batticaloa where traditions have been crushed by war and other priorities than practising your dance moves.
I have just demolished a yummy breakfast. I do big breakfasts and can then go all day. I am now going to try to visit Dambulla which is on the route home, based on the fact that if I don't quite make the bus connections I can pick up the overnight train to Batticaloa in Polonnaruwa.
http://www.magdamunteanu.ro/wp-content/uploads/2015/02/DSC_6361.jpg