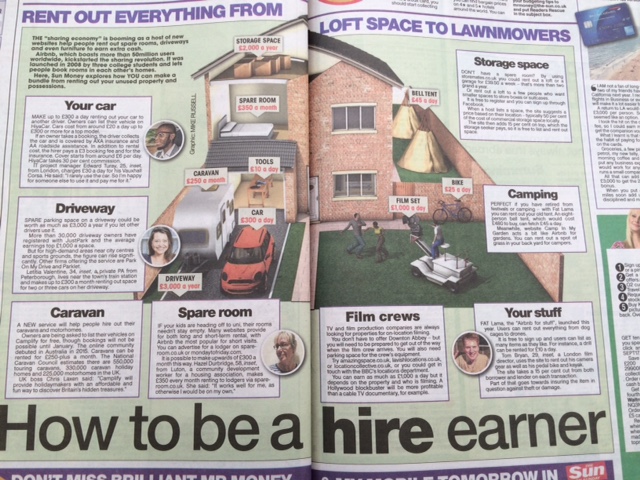 I appear on page 42 of The Sun newspaper
I had a telephone interview from a Sun journalist this week asking me questions about my experience letting out spare rooms. They got my details from www.spareroom.co.uk who had previously asked me if I minded being interviewed when they got press interest.   It was a bit scary because you automatically assume they will sensationalise it and I am positive about the experience so don't want to trash it.
However, she sent me the draft and it seemed innocuous.
Hi Hazel,
Thanks for this. I enjoyed reading the  blogpost.
I've taken some of it and used it in the quotes. Please see below and let me know if you're  happy with this.
Hazel Durbridge, 58, from Luton, takes £350 a month through renting out one of her spare rooms to a lodger, which supplements her income as a community development worker for a housing association.
She said: "People live differently from you so you have to  accept they don't look after your property in the way you would look after it, and you may end up washing up after them or cleaning the bathroom. There's that sort of thing, but you just have to get over it really. "When I get tired and irritated with sharing I remember that I would not be in my house without my lodgers. They pay my mortgage. "The type of people who come tend to be young professionals just starting out who have just left university and have their first job. They are used to student living and they don't need a lot of space. "I have had someone who has been with me over eight years, they live here and it's their home. But I do see this as a business so I'm professional about it and I don't get emotionally attached to them. Saying that, if we both happen to be in the kitchen at the same time we can have a nice chat. It's good to meet new people. My children have left home so it works well for me as otherwise I would be on my own".
Best, Harriet
Harriet Cooke News Reporter
The Sun
In the end it was further edited.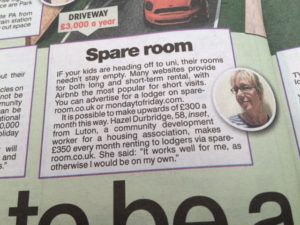 I wrote about renting rooms in a previous blog post
http://hazeldurbridge.com/10-ways-survive-renting-rooms-home/